Ladies Sleeveless Polo
Color: Pale Blue
Brand: Scott
Size: M
Fabrics: Cotton PK
95% cotton 5% spandex
3 Button in Front
Measurements:
Chest:38" (Inch), Length:22" (inch)
This Product Tag Price:59.90 Euro sell in Germany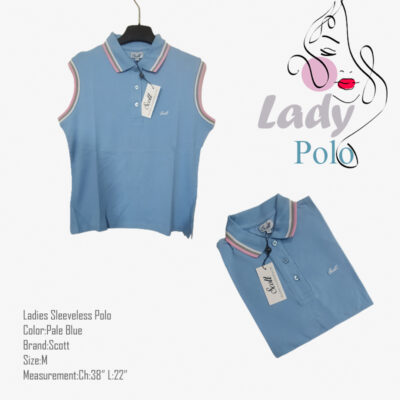 Elevate your summer wardrobe with the exquisite Ladies Sleeveless Polo. Crafted with meticulous attention to detail, this polo offers a perfect combination of style, comfort, and versatility. The pale blue color evokes a sense of tranquility and freshness, making it a delightful choice for warm sunny days.
Designed to provide optimal comfort, this sleeveless polo is made from a premium blend of 95% cotton and 5% spandex. The cotton PK fabric offers a soft and breathable feel against your skin, while the spandex component provides just the right amount of stretch for ease of movement. Experience the ultimate in comfort as you go about your day, whether you're running errands, meeting friends, or engaging in outdoor activities.
The three-button front adds a touch of sophistication to the polo, allowing you to customize the neckline to suit your personal style and preference. With a well-tailored fit and a size medium, it flatters your figure while providing ample freedom of movement.
Measuring 38 inches in the chest and 22 inches in length, this polo is designed to complement your body shape while ensuring a comfortable and relaxed fit. The attention to detail in the construction and stitching is evident, reflecting the brand's commitment to quality and durability.
This Ladies Sleeveless Polo is not only a fashion statement but also a practical choice. Its versatility makes it suitable for a variety of occasions. Dress it up with tailored pants or a skirt for a polished and chic ensemble, or pair it with jeans or shorts for a more casual and laid-back look. Whether you're heading to a brunch, a picnic, or a golf session, this polo is a reliable choice that effortlessly transitions from day to evening.
In Germany, this exquisite piece is available for sale at the price of 59.90 Euro, which is a testament to its superior craftsmanship and materials. Treat yourself to this sophisticated and comfortable polo and experience the joy of wearing a garment that embodies both style and functionality.
Enhance your summer wardrobe with the Ladies Sleeveless Polo by Scott and embrace a perfect blend of elegance, comfort, and versatility.