Ladies Sleeveless Polo
Color: Black
Brand: Scott
Size: XXL
Fabrics: Cotton PK
95% cotton 5% spandex
3 Button in Front
Measurements:
Chest:40" (Inch), Length:26" (inch)
This Product Tag Price:59.90 Euro sell in Germany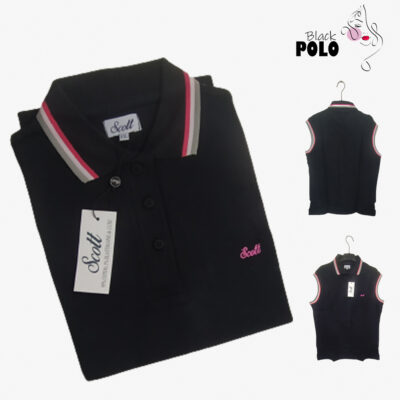 Introducing the stunning shade of black, the Ladies Sleeveless Polo by Scott is designed to keep you cool, comfortable, and effortlessly stylish during warm weather days. Meticulously crafted with meticulous attention to detail, this exquisite polo is brought to you by Scott, a brand renowned for its commitment to delivering high-quality and fashion-forward clothing.
Constructed with a Cotton PK material, this polo offers unparalleled comfort and breathability. With a fabric composition of 95% cotton, your skin will be treated to a soft and gentle touch, while the remaining 5% spandex ensures a perfect fit that moves with your body. Emphasizing practicality, the sleeveless design provides unrestricted movement and a sense of freedom during active days or casual outings.
Adding a touch of elegance and sophistication, the classic three-button front is featured in this polo. Meticulously crafted buttons not only enhance the overall aesthetic appeal but also allow you to adjust the neckline according to your preference. Effortlessly transitioning from day to night, this polo's carefully tailored fit flatters your silhouette, giving you a confident and chic look.
The chest measurement of 40 inches and length of 26 inches ensure a comfortable and flattering fit. Room to breathe is provided by the ample chest measurement, without compromising on style. A polished and well-balanced appearance is achieved with the perfectly proportioned length.
With its versatility, this black polo can be effortlessly paired with various bottoms, including jeans, skirts, or tailored pants. Statement accessories can be added to create a more glamorous look, or a simple and minimalistic approach can be taken for a laid-back and casual vibe. When it comes to styling this wardrobe essential, the possibilities are endless.
The Ladies Sleeveless Polo by Scott is available for purchase in Germany, priced at 59.90 Euro. This competitive price point ensures that you can indulge in high-quality fashion without breaking the bank.
Embrace comfort and elevate your style with the Ladies Sleeveless Polo. Effortlessly cool, stylish, and confident, this polo is perfect for social gatherings, running errands, or simply enjoying a leisurely day outdoors. With its unmatched blend of comfort, quality, and fashion, experience the exceptional sleeveless polo by Scott.